I did this with my ONAK canoe
Length: 10.23 km
Start
End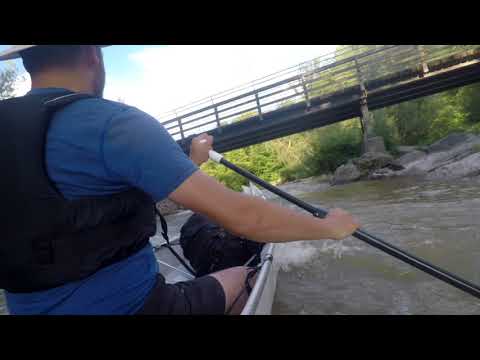 Definitely always use a lifejacket on such waters! This is not a beginners trip, as the weirs around here can be extremely dangerous.
I did this paddle after some heavy rainstorm, so I suspect there was quite some more water than usual. Th trip from higher upstream (Wolfratshausen) should also be possible.
Perfect to take the public transport to the starting point.
Had to do two very short portages at point A & B
There is a very big weir at the Marienklausenbrücke (point C), portaging around should be possible, but I took it (you can see it from the 12th second on the video)
Thalkirchner Brücke would be a good endpoint, but I still went on from there. I suspect that the weirs just after it ( point E) were only possible due to the heavy rains of just before.
Also, there was one tricky weir (point F) that I didn't see coming easily. I got quite a huge splash in from that one as you can see towards the end of the video.
When less water I can imagine that these weirs look totally different.